SOMETHING IN THE OFFING: A potentially significant active region is about to rotate onto the Earthside of the sun. A hot plume of plasma flying over the sun's northeastern limb heralded its approach during the early hours of April 15th: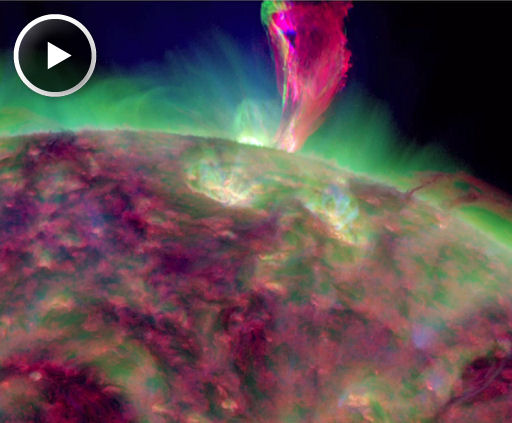 Extreme UV image credit: NASA's Solar Dynamics Observatory
The eruption hurled a coronal mass ejection toward NASA's STEREO-B spacecraft. Analysts at the Goddard Space Weather Lab have prepared a forecast track showing the progress of the cloud. No planets are in the line of fire.
Stay tuned for updates as the sun turns to reveal the active region in the days ahead. Solar flare alerts: text, phone.
more images: from Wah! of Hong Kong; from Paulo Casquinha of Palmela, Portugal; from John Stetson of Falmouth, Maine; from Peter Desypris of Athens, Greece; from Michael O'Connell of Kildare, Ireland
from spaceweather.com