MASSIVE PROMINENCE: Amateur astronomers around the world are monitoring a massive, active prominence dancing along the sun's southeastern limb. If you have a solar telescope, take a look. The latest images suggest an eruption might be in the offing. Stay tuned for action.
DARK HOLE IN THE SUN'S ATMOSPHERE: Ultraviolet telescopes onboard NASA's Solar Dynamics Observatory are monitoring a vast dark hole--a "coronal hole"--in the sun's upper atmosphere. It has just turned directly toward Earth: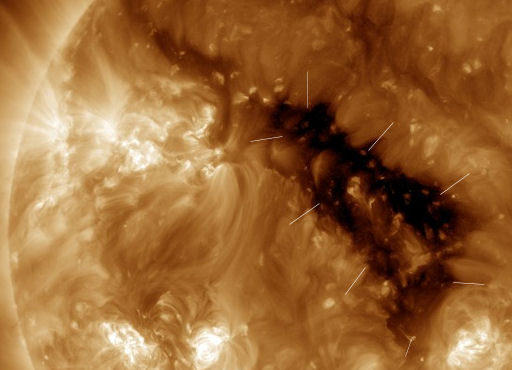 Coronal holes are places where the sun's magnetic field opens up and allows the solar wind to escape. A stream of solar wind flowing from this particular gap is en route to Earth, due to arrive on July 2nd or 3rd. The impact could spark geomagnetic storms and auroras. Aurora alerts: text, voice.
ACTIVE SUNSPOT: Sunspot AR1513 is crackling with impulsive M-class solar flares. NASA's Solar Dynamics Observatory recorded the extreme ultraviolet flash from one of them at 0920 UT on June 29th: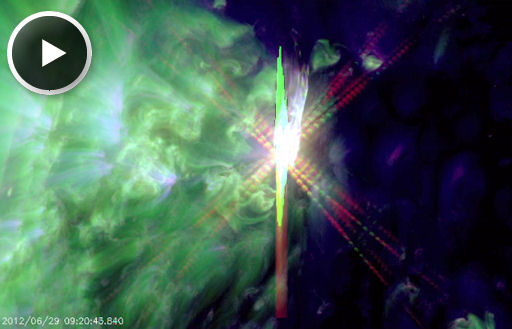 This M2-class flare illuminated Earth's upper atmosphere with a pulse of X-rays and extreme ultraviolet radiation. Waves of ionization rippled over Europe, altering the propagation of low-frequency radio signals around the continent. Using a receiver tuned to 60 kHz, Rob Stammes detected the sudden ionospheric disturbance over Norway. His antennas also picked up radio waves from the flare itself at 26 MHz and 56 MHz.