INCOMING
CME:
The solar eruption of August 7th might
affect Earth after all. Newly-arriving data from the Solar
and Heliospheric Observatory (SOHO) show a CME heading our
way with a significant Earth-directed component. Click on
the image to launch a "difference movie" of the
expanding cloud: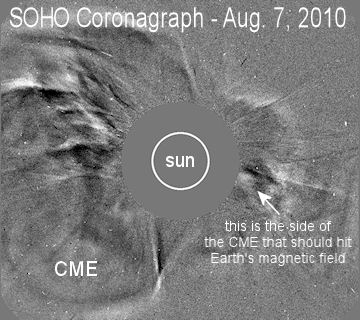 The impact of this lopsided CME probably won't trigger a major geomagnetic storm---but the SOHO data show it could be bigger than expected. High latitude sky watchers should
be alert for auroras
when the cloud arrives probably on August 10th.