Since 3 days, Space Weather has this picture posted on their website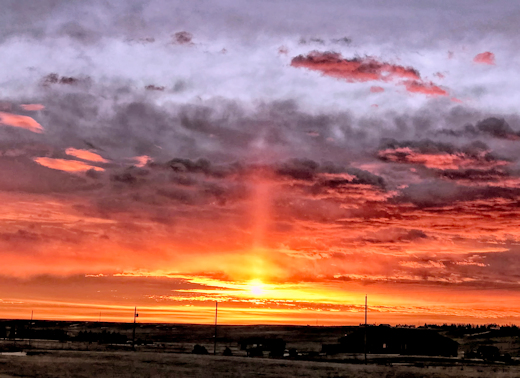 The text mentioned the following:
When dawn broke over Cheyenne, Wyoming, on Jan. 10th, a bright orange source of light appeared in the east. Strangely, it wasn't the sun. "The sun wouldn't rise for another 9 minutes," says Jan Curtis, who took this picture:
"This atmospheric optical effect is caused by the reflection of sunlight by ice crystals in the clouds," says Curtis.
On that wintry morning in Cheyenne, plate-shaped crystals of ice fluttered down from cirrus clouds over the eastern horizon. The crystals' flat faces caught the rays of the advancing sun and spread the light into a vertical column--a sun pillar. A clump of crystals in the cloud deck produced the bright mock sun.
With low-hanging suns beaming through freezing air, northern winter is a good time to see sun pillars and other ice halos. Watch for them especially at sunrise and sunset.