The South Pacific eclipse of July 11th is over. During the 5-hour event, sky watchers spent as much as 4 minutes completely enveloped in the Moon's shadow watching in awe as the solar corona revealed itself to the human eye. Eclipse-chaser Janne Pyykkösends this picture from a hill overlooking Lago Argentino in Patagonia, Argentina: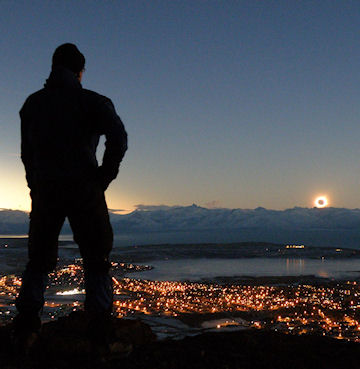 "The eclipse was not easy to catch here because the total phase occured at sunset when the sun was only 1o above the horizon," he says. "To increase my chances, I hiked to a hill 400 meters above the lake--and there it was! The eclipse was easy to see just above the usually-cloudy Andes. I was very lucky indeed."
Physics professor Patricia Reiff of Rice University witnessed the eclipse from the deck of the Aranui 3 cruise ship just off the coast of Tahiti. She sent this picture directly from the ship using her iPhone.
Photographers, submit your images here.
Solar Eclipse Photo Gallery
[NASA: South Pacific Eclipse] [animated map] [det