CHANCE OF MAGNETIC STORMS: NOAA forecasters estimate a 40% chance of polar geomagnetic storms today in response to a high-speed solar wind stream blowing around Earth. High-latitude sky watchers should be alert for auroras. Magnetic storm alerts: text, voice.
MASSIVE PROMINENCE: Amateur astronomers around the world are monitoring a massive, active prominence dancing along the sun's southeastern limb. Andre van der Hoeven sends this picture from HI-Ambacht, the Netherlands: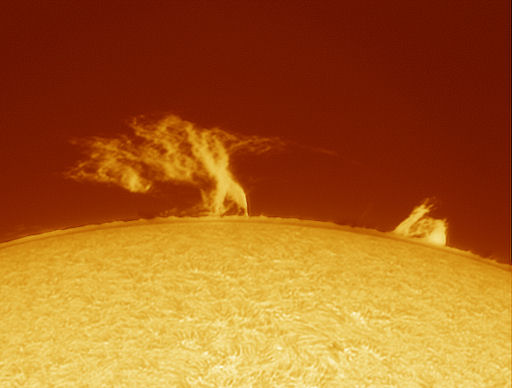 Prominences are filaments of magnetism filled with glowing-hot plasma. This beautiful "prom" rises more than 40,000 km above the stellar surface and stretches more than 20 Earth-diameters from end to end. Such structures are naturally unstable, and this one could collapse at any time. Keep and eye on the latest images for developments.
DARK HOLE IN THE SUN'S ATMOSPHERE: Ultraviolet telescopes onboard NASA's Solar Dynamics Observatory are monitoring a vast dark hole--a "coronal hole"--in the sun's upper atmosphere. It has just turned directly toward Earth: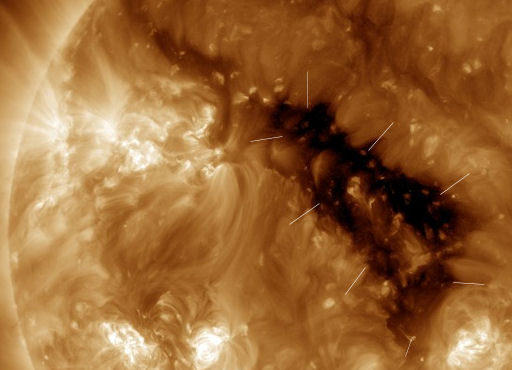 Coronal holes are places where the sun's magnetic field opens up and allows the solar wind to escape. A stream of solar wind flowing from this particular gap is en route to Earth, due to arrive on July 2nd or 3rd. The impact could spark geomagnetic storms and auroras. Aurora alerts: text, voice.