From spaceweather.com:
MAGNETIC STORM IN PROGRESS: A solar wind stream hit Earth's magnetic field during the early hours of March 1st. The impact sparked a geomagnetic storm that was, at first, minor, but the storm has been intensifying throughout the day. Spotters are now reporting auroras over Northern Ireland, Latvia, Norway, and Sweden. If trends continue, the display could spread to the high latitudes of North America after nightfall. Stay tuned! [Aurora alerts: phone, text]
NASA space physicist James Spann sends this picture from Poker Flat, Alaska, where he is attending a scientific conference to study auroras: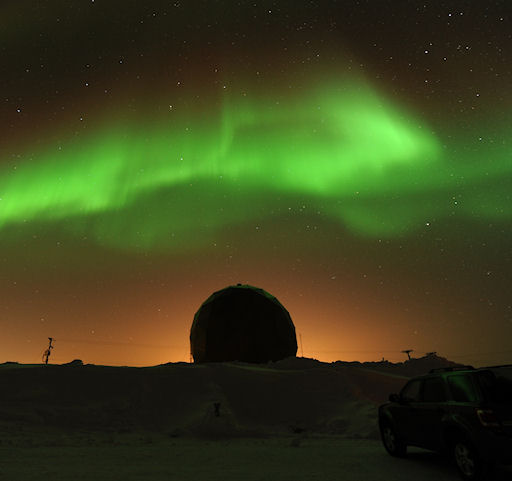 "This is the first time I have seen the aurora borealis in person," says Spann who lives in Alabama. "It was fantastic--the greatest light show on Earth. It was cold (<-20 F) outside but worth every minute of exposure and lost sleep. I am afraid now that I have been ruined for life since my first personal viewing of the aurora was so amazing."
As a researcher he also appreciated the greater meaning of the display: "This is the most obvious and accessible evidence of the connectivity that Earth has with our star the sun. Witnessing the connectivity first-hand was particularly special to me."